OLD ANTIBES
1100 sqf, 2 bedrooms, 2 bathrooms, full sea view terrace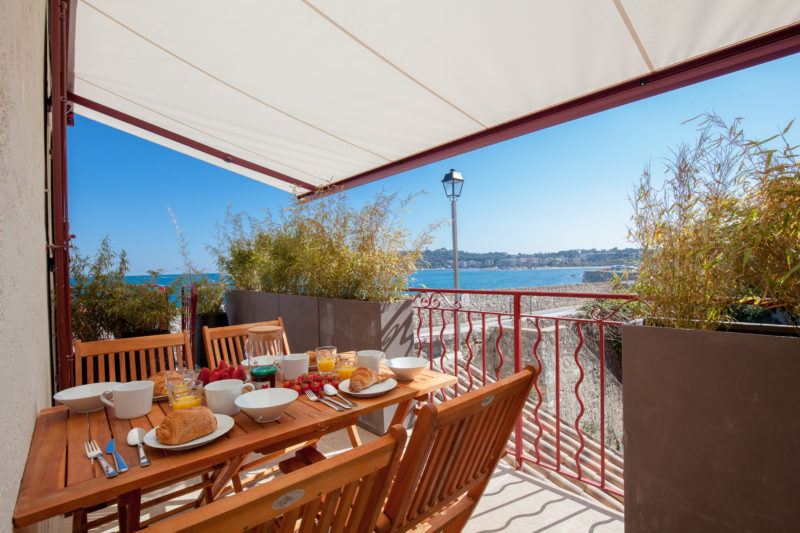 Maison Marina is an elegant 1100 sqf (100m2) house, with its ideal location in the heart of the historical centre of Antibes (promenade Amiral de Grasse), has 2 master bedrooms and can accommodate up to 6 people.
It occupies the entire first floor of a beautiful, seventeenth century building.
It was completely renovated in September 2017. All furniture is new and upscale.
It is perfectly equipped: washing machine / dryer, dishwasher, oven, microwave, high-speed Internet, Wifi, linens, etc.

Love at first sight, guaranteed!
Ready to stay in the Maison Marina?
Book now
The lounge living dining room
The 32 m2 (350 sqf) living/dining room faces southeast with 4 windows full sea view.
The large glass door also leads out onto the 12 m2 (130 sqf) terrace.
The apartment therefore has a total living space of 45m2 (485 sqf) dedicated to relaxation, overlooking the sea.
The floor is made of old travertine. The living room is decorated in a very contemporary style that blends perfectly with the charm of the building.

It is equipped with a beautiful convertible Roche-Bobois sofa-bed (140x200 cm), a Noguchi coffee table, two Maniglier armchairs.
The dinner table is made of light wood.
This room is also equipped with a 164 cm flat screen TV (with ADSL and Netflix Premium), a DVD player, a stereo and high-speed Internet + Wifi.
In the winter, you can use the fireplace.
The terrace
The terrace is equipped with everything you need to make your time spent here as enjoyable as possible, from morning to evening.
Facing due south, the terrace is bathed in sun all day long.
On the terrace, you will find: a teak table with 6 chairs and 2 teak long chairs.
An electric awning also allows you to protect yourself from the sun if you wish.

Nothing overlooks this terrace, giving you an unobstructed view of the sea and and the Cape of Antibes. You'll actually feel like you're on a boat!
The kitchen
The 10m2 (107 sqf) kitchen is open to the living / dining room. It is completely new and very contemporary.
It is equipped with Siemens appliances: stove and microwave, 4 induction hobs, an Italian hood, a refrigerator with a built-in, 3-drawer freezer, a dishwasher.
You will also find a Nespresso© coffee machine, an electric kettle, a toaster and many more utensils.

The furniture is by Venetta and the countertop is white granite.
The floor is made of old travertine.

The large window overlooks the garden and you've a beautiful sea view when you cook.
Master bedroom 1
The first master bedroom, 22m2 (236 sqf), has 2 windows that overlooks the Old Antibes ramparts and the sea.
It is equipped with a double bed, Black Label bedding (160 x 200 cm) and two wardrobes.
The bathroom includes a black granite vanity, a bubble bath (180 x 80 cm), a 120 x 90 cm shower and a suspended toilet.
From the bed, you have a magnificent view of the sea.
The floor is made of old travertine.
Master bedroom 2
The second master bedroom, 16m2 (172 sqf), has one window overlooking the terrace and the sea.
It is equipped with a double bed, Black Label bedding (160 x 200 cm) and two wardrobes.
The bathroom has a sink, a 120 x 80 cm shower and a suspended toilet.
The floor is made of old travertine.
Located promenade Amiral de Grasse, in the heart of the historic triangle Cathedral Notre-Dame-de-la-Platea, Picasso Museum, Provençal Market.
LOCATION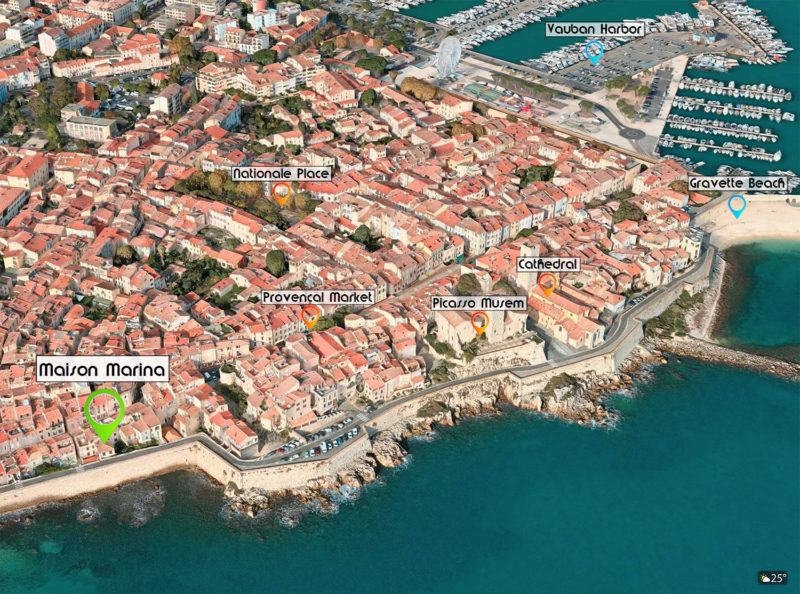 This apartment is located in a typical, seventeenth century Antibes building.
The entrance to the house is via the Admiral de Grasse, an exceptional address and reserved only for 3 privileged dwellings on the ramparts of Antibes : you'll fall under its spell the moment you set your eyes on it!
The facade was renovated in 2017.
The house has an armoured entrance door.

The Maison Marina is ideally placed to visit the must see monuments and museums of Antibes, but also to indulge in shopping.
Old Antibes is a chic and trendy district, known for its elegant streets, cafes and restaurants, fashion and design shops, antique shops, art galleries, etc.
The Notre-Dame-de-la-Platea Cathedral, the Picasso Museum and the Provençal Market are just around the corner.
Walk to the Gravette and Salis beaches in under 5 minutes.
Maison MARINA - AirBnb - Aug, 2018
We stayed here during our own wedding in antibes. It really is gorgeous waking up looking out onto the sea every morning. The views are amazing inside and out. Very centrally located but away from the noise of the town. I would recommend this luxury apartment to anyone.
June Tipperary, Irland
Maison MARINA - AirBnb - Jul, 2018
This beautiful home is perfectly located in Antibes. It has recently been renovated and it is spectacular. The modern amenities in juxtaposition to the historic design was executed perfectly. The home is spacious and has a wonderful outdoor terrace overlooking the Côte d'Azur. The vibrant city has so much to offer all in walking distance. The local beaches are small. We instead opted to drive to Cannes and Fréjus, which were amazing. The daily farmers market is extraordinary. Definitely not to be missed. You can stroll the streets for shopping, restaurants or to just admire the architecture. If you a looking for an authentic experience in Antibes, than this house is for you.
Mindy Southold, New York, USA
Maison MARINA - HomeAway - Jun, 2018
Spectacular place on the coast of Antibes!

My family of three spent a wonderful week in this newly renovated, beautiful home. The location is a 3-minute walk to the outdoor market, and a 5-minute walk to the Old City. It could not be more convenient. It had every amenity (detergent for the washing machine and dishwasher), a fully outfitted kitchen, and true central air conditioning. Our host, Ivan, truly went the extra mile for us. When I asked for restaurant suggestions, he emailed several immediately and offered to make the reservations. Our departing flight from Nice was extremely early on a Saturday morning, so he arranged a private car service. Although he is French, his English is better than mine! The location could not be more ideal. The few minutes it takes to walk to town ensure that you are away from the noise and crowds at night, but able to fully partake in the culture of Antibes at a moment's notice. We would stay here again without hesitation.
Mark S.
Maison MARINA - HomeAway - Jul, 2018
Wonderful property in a wonderful location!

Spent 6 nights in Antibes with my wife and 2 children (ages 12 and 13). The apartment was perfect, in a perfect location for exploring the old town of Antibes and within easy walking distance of several beaches. Check-in and check-out were excellent, and the owner was very responsive to any questions we had leading up to our trip. Would highly recommend to anyone looking to experience the old character of Antibes while enjoying the modern amenities of a wonderful renovation!
Martin K
Maison MARINA - AirBnb - May, 2018
U need to Stay here!!! It's not often in life one gets a beautiful stylish ocean front apartment to call home (on the Côte de azur too!) So much effort has gone into the amenities and cleanliness at this home. We stayed as a group of 4 adults and a baby and the whole stay was seamless. A good cot was provided. The apartment is so well situated in old Antibes- with the ocean on the doorstep and just minutes from the markets and dozens of places to eat. We will be back because this flat exceeded all expectations as did Antibes. Thank you
Nichole Scarborough, Australia
Maison MARINA - AirBnb - Mar, 2018
Our stay at Henri's place far exceeded our expectations. The location is unparalleled - it feels like you are on a boat or in a light house with a panoramic view of the bay. The space itself is newly updated, clean, and seek - giving it an Old World feel with modern amenities. We loved the patio with retractable awning for morning coffee, and the jacuzzi was fantastic after a long day. Location wise, the spot is walkable to all locations in Antibes, including restaurants, shops, and beaches. Our only regret is that we didn't stay longer! Henri and his manager Ivan will take extremely good care of you. We would recommend this AirBnB to anyone, and will be returning to it in the future!
Nathan Savannah, Géorgie, USA
Ready to stay in the Maison Marina?
Book now