OLD ANTIBES
1600 sqf (150 m2), 3 Bedrooms, 3 Bathrooms, Full Sea View Terrace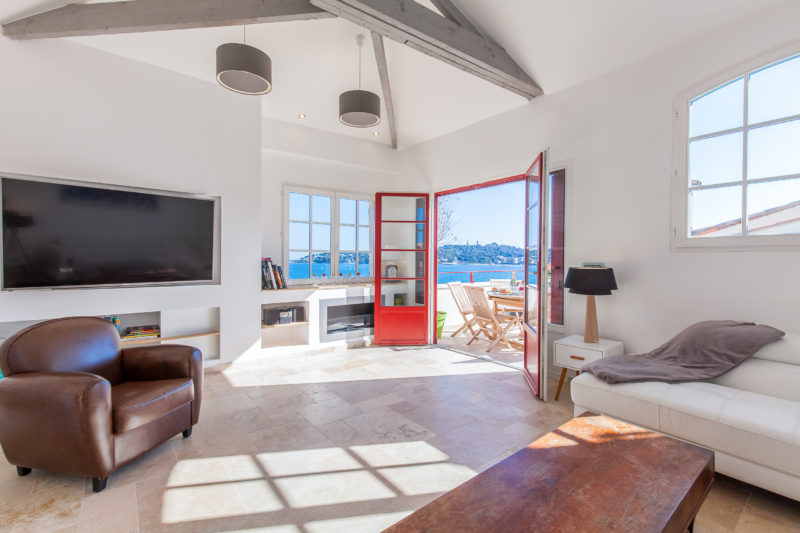 Maison Baïeta is an authentic 1600 square feets (150 square meters) 3 bedrooms house, in the 1st French floor of 17th century walk up building and it sleeps 6 people.

The house was completely renovated in 2018.

This 3 floor house is full of charm of the Vieil Antibes.
- 3 private en-suite bathrooms suits couples or families with children
- one large and modern kitchen/dining room
- one large living room with a beautiful view
- a large terrace with a direct view on the Cap d'Antibes.
Ready to stay in the Maison Baieta?
Book now
The lounge
The 24 m2 living room faces southeast.
The large glass door also leads out onto the 24 m2 terrace.
The apartment therefore has a total living space of 50m2 dedicated to relaxation, overlooking the sea.
The floor is made of old travertine. The living room is decorated in a very contemporary style that blends perfectly with the charm of the building.

It is equipped with a beautiful Roche-Bobois Corner sofa, a Noguchi coffee table, a club armchair and two Maniglier armchairs.
This room is also equipped with a 164 cm flat screen TV (with ADSL and Netflix Premium), a DVD player, a stereo and high-speed Internet + Wifi.
In the winter, you can use the fireplace.

The terrace
The terrace is equipped with everything you need to make your time spent here as enjoyable as possible, from morning to evening.
Facing due south, the terrace is bathed in sun all day long.
On the terrace, you will find: a 5-person ClairAzur© hot-tub, a round teak table with 6 chairs, a sofa and a coffee table, a Weber gas barbecue. There is also an outdoor shower.
Nothing overlooks this terrace, giving you an unobstructed view of the sea and and the Cape of Antibes. You'll actually feel like you're on a boat!

The Hottub is open from Apr, 15 to Oct, 15.
The kitchen
The 23m2 kitchen is completely new and very contemporary.
It is equipped with Siemens appliances: stove and microwave, 4 induction hobs, an Italian hood, a refrigerator with a built-in, 3-drawer freezer, a dishwasher.
You will also find a Nespresso© coffee machine, an electric kettle, a toaster and many more utensils.

The dinner table is made of light wood and there are 6 Calligaris white leather stools.
The furniture is by Venetta and the countertop is white granite.
The floor is made of old travertine. The French ceiling dates from the 17th century.

The photo "The pool at Villa Nirvana in Acapulco, Mexico in 1971" by Slim Aarons has been built into one of the walls, in its original size (180 x 100 cm).
The 2 windows overlook the rue de la Tourraque.
Master bedroom 1
The first master bedroom, 16 m2, has a window that overlooks the Old Antibes ramparts and the sea.
It is equipped with a double bed, Black Label bedding (160 x 200 cm) and a wardrobe.
The bathroom includes a black granite vanity, a teak cabinet and shelf, a 90 x 90 cm shower and a suspended toilet.
From the bed, you have a magnificent view of the sea.
The floor is made of old travertine. The French ceiling dates from the 17th century.
Master Bedroom 2
The second master bedroom, 20 m2, has two windows overlooking the rue de la Tourraque.
It is equipped with a double bed, Black Label bedding (160 x 200 cm) and a wardrobe.
The bathroom has a sink, a 120 x 80 cm shower and a 2-person sauna.
The floor is made of old travertine.
Master Bedroom 3
Master Bedroom 3
The 15 m2 room has a window overlooking the ramparts and the garden.
It is equipped with a double bed, Black Label bedding (160 x 200 cm) and a wardrobe.
The bathroom includes a black granite vanity, a teak cabinet and shelf, a 90 x 90 cm shower and a suspended toilet.
The floor is made of old travertine.
Located rue de la Tourraque, in the heart of the historic triangle Cathedrale Notre-Dame-de-la-Platea, Picasso Museum, Provençal Market.
LOCATION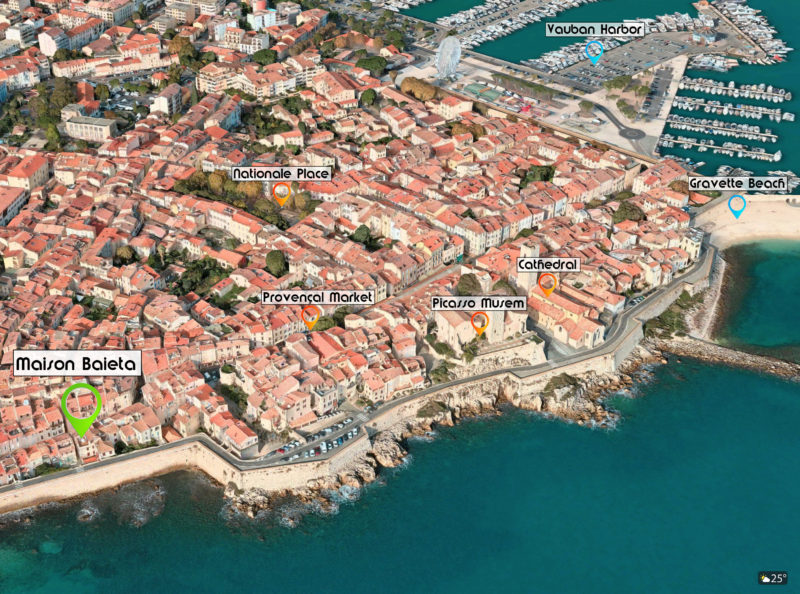 This apartment is located in a typical, seventeenth century Antibes building.
The entrance to the building is from rue de la Tourraque: you'll fall under its spell the moment you set your eyes on it!
The facade was renovated in 2017. There is no lift.
The building is secured by an electronic lock. The apartment has an armoured entrance door.

The apartment available for rent is ideally placed to visit the must see monuments and museums of Antibes, but also to indulge in shopping.
Old Antibes is a chic and trendy district, known for its elegant streets, cafes and restaurants, fashion and design shops, antique shops, art galleries, etc.
The Notre-Dame-de-la-Platea Cathedral, the Picasso Museum and the Provençal Market are just around the corner.
Walk to the Gravette and Salis beaches in under 5 minutes.
Maison BAIETA - AirBnb - Apr, 2019
We are a family of four traveling through France. We stayed at Henri's place in April 2019.

The house is very beautifully designed with exposed beams, wide windows, wonderful amenities, new bathrooms, and kitchen.

And the location is amazing - we were in the old town where we could walk to the Provenceal market every day to get fresh bread/fruits, the local restaurants, and the Picasso Museum.

And the best of all - the views of the sea from the patio and within the house are absolutely spectacular!

And Ivan and Henri are great hosts! Ivan received us at the apartment - he showed us around and answered all our questions. He gave great recommendations for restaurants in the area. Henri checked to make sure we had no issues. They even provided refreshing snacks, wine, and coffee to get us started. This place is an absolute gem - we wish we could stay longer! If we are back in South of France - we would love to stay here again! Henri and Ivan - thanks for sharing such a wonderful place with us, and thanks for your hospitality!
Sonal Boston, USA
Maison BAIETA - AirBnb - Mar, 2019
We thoroughly enjoyed our stay at Maison Baieta.

The location is perfect – lots of restaurants, shops, and the market all within walking distance.

The home is beautifully remodeled – daily breakfast on the terrace was of the highlights of the trip.

The host was fantastic and made great trip excursion recommendations that we took – Monaco, Eze, and Ventimiglia.

Absolutely amazing experience.
Charles Wayzata, Minnesota, USA
Maison BAIETA - Absoluty - Mar, 2019
We spend 10 days in this beautiful apartment in the heart of Antibes.
You couldn't have a better location or a better view.

We where 2 families of 2 adults and one baby, so 6 people in all.
We had plenty of room, and the apartment could have fit one more family.
We used the spa almost everyday. It easily fits 4 people and you have the view of the city and sea - just perfect!
The apartment has everything you need, and if you have special requests Henri and Hannah will take care of you.
We needed 2 baby cots and 2 high chairs which was there when we arrived.
Hannah even got some drinks and cakes ready for us at arrival since we where there on my wife's birthday.
I have never stayed at a better place than this!

Top class equipment all over the apartment, and full equipped kitchen.
You have the center of the old town right outside the door, with plenty of restaurants and cozy streets.
We will definitely come back!
Jimmi Roskilde, Danmark
Maison BAIETA - Homeaway - October, 2018
Amazing place for a lovely vacation!

I highly recommend this property!
We were so pleased with this apartment!
It's beautifully done with 3 bedrooms and their own bathrooms and just perfect for our girls trip to Antibes!
Every room with a TV, it's own A/C settings and wonderful bedding and amenities.
The kitchen was well stocked and great for cooking wonderful food from the daily open air market that is a block or so away!
The living room and deck were great for hanging out and the view was beyond compare!
We were expecting a beautiful place based on the website pictures but the reality took our breathe away!

We were met by Ivan and he gave us a tour and details about the apartment as well as great recommendations for restaurants. He was a pleasure to work with! Antibes was a great place to stay and we loved exploring the many streets and shops and the food! :)
We are already talking about a return trip in the future but will definitely need to book way ahead as I'm sure it will get booked up!

Thanks so much Henri & Ivan! It was a true pleasure!!
Patricia
Maison BAIETA - AirBnb - September , 2018
Future travelers can expect an amazing place!

The location is perfect.
The style is exquisite.
The views from the patio are magnificent.
Everything from the linens to the appliances are high end. We loved everything about Henri's place.

Though we did not meet Henri face to face, we were met by Ivan and he spent time showing us the home and explaining how things worked. He was also available to answer a few questions via text that came up for us. Henri contacted us and offered to meet to talk about our stay and things that might be of interest. Though we already had plans and were unable to meet we were impressed by his availability to us.
Antibes is a special place in so many ways and staying at Henri's place made our experience absolutely perfect.

Thank you for thinking of everything.
Dean River Hills, Wisconsin, USA
Ready to stay in the Maison Baieta?
Book now